We are closed through the duration of NC Coved-19 State Order. The tentative date to reopen is Friday, May 1
Cowee Gift Shop and
Mason Mountain Mine
MACON COUNTY, NC COVID-19 ANNOUNCEMENT
Summary of Regulations Imposed in Macon County, NC, in Connection with COVID-19.
The Macon County Sheriff's Office will continue to conduct random "Informational Checkpoints" throughout Macon County where they distribute fliers to motorists contain information related to COVID-19 and the latest regulations that have been established by our county and also by State of North Carolina.
• The entire state of North Carolina is under a "Stay at Home" order, effective March 30, 2020, 5:00 p.m., per NC Executive Order No. 121. People should stay at their residence and limit social interactions and travel to essential activities.
• All Persons whose point of departure is identified as a "community spread" area, who enter Macon County, shall be subject to Quarantine and/or Isolation Orders by the Macon County Health Director; and are hereby requested to self-quarantine or self-isolate for a period of (14) days to limit exposure to our residents and prevent a hardship on our healthcare system. Effective March 27, 2020, 5:00 p.m., per Macon County Regulation Imposed in Macon County, NC, in connection with COVID-19.
• No Mass Gatherings of persons in groups of more than 10 people are allowed. Effective March 27, 2020, 5:00 p.m., per Macon County Regulation Imposed in Macon County, NC, in connection with COVID-19.
• All Lodging Facilities are closed, effective March 27, 2020, 5:00 p.m., per Macon County Regulation Imposed in Macon County, NC, in connection with COVID-19., including:
o Hotels
o Motels
o Resorts
o Inns
o Guest Houses
o Bed and Breakfasts
o Campgrounds
o RV Parks
o Vacation Cabins
o House Rentals
o For a list of exemptions, see www.maconnc.org.
• Restaurants are restricted to carry-out, drive-through and delivery only. Bars are closed. effective March 30, 2020, 5:00 p.m., per NC Executive Order No. 120
• Only Essential Businesses are opened. All other businesses are closed except for minimal basic operations. Effective March 30, 2020, 5:00 p.m., per NC Executive Order No. 121.
• Public playgrounds and their equipment are closed. People may go to public parks and open outdoor recreation areas while following social distancing and mass gathering guidelines. Effective March 30, 2020, 5:00 p.m., per NC Executive Order No. 121.
• Most National Forest Access Points are closed. See www.fs.usda.gov/nfsncor or www.facebook.com/nfsnc for the recreation information.
About Us
Owned and Operated by Tom and Ginger Johnson
In the late 1800's, a mine was discovered in northern Macon County that was rich in Rhodolite garnets and six other minerals. The mine was a well-known treasure to the county's earliest inhabitants and in 1965, when Tom Johnson was just six months old, his father purchased the mine. Today, the mine is still in the family with Tom and his wife, Ginger, continuing the family's legacy of opening the mine, now known as Cowee Gift Shop and Mason Mountain Mine.
​
The family mining tradition has remained making the mine a popular gathering site for families and miners from all over the world who come to Macon County still searching for gems.
In addition to Rhodolite garnets, named for the native Rhododendron that grows across the mountains, the property has six other minerals – Corundum, which is Ruby and Sapphire, Kyanite, Moonstone, Smokey Quartz, Garnet, and Cordierite (a form of Iolite).
At Mason Mountain Mine customers become friends and friends become family!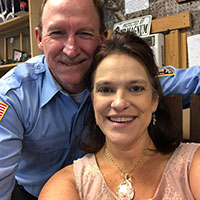 We offer the best hands-on training you will ever need to begin finding gemstones. Once you find a few, bring them to our gift shop to have them examined by one of our professional staff to see if any can be cut into something beautiful!
Tom & Ginger, Your Hosts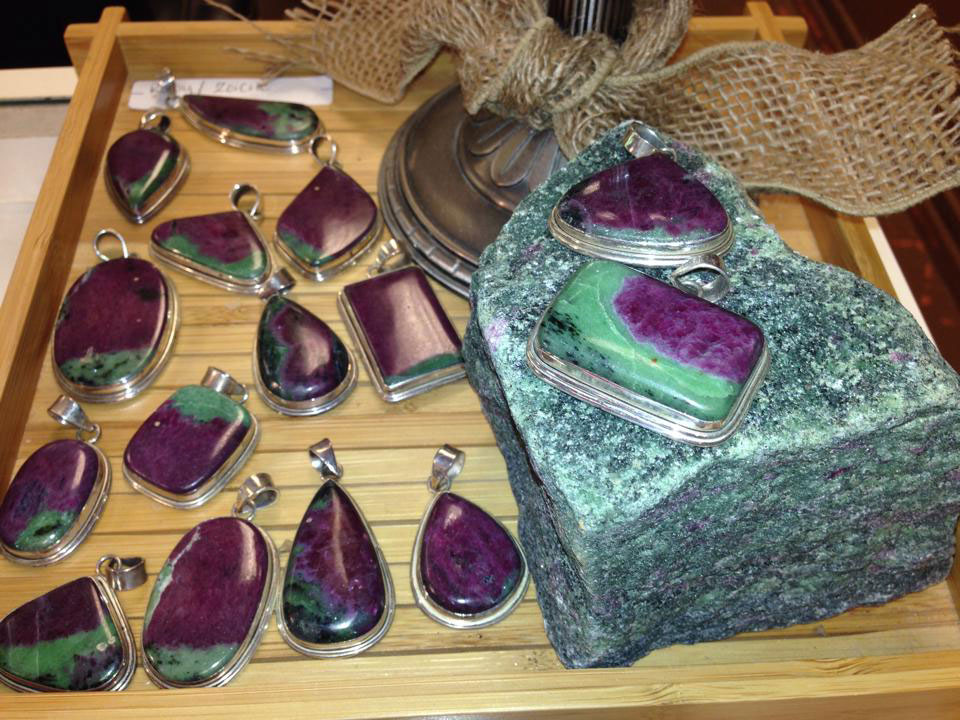 GIFT SHOP
Looking for that special souvenir? When you stop by our gift shop our friendly staff will happily assist you. As you browse our shop, you will find gems and minerals from our property, surrounding areas and from all over the world. Whether you are looking for jewelry, T-shirts, hats, specimens, toys, or home decor you can find it in our gift shop.
The shop hours are
Monday – Saturday 9am-5pm (March 1 – October 31)
Friday and Saturday 10am -3pm (November 1 – December 24)
GEM CUTTING
Tom teaches gem cutting lessons throughout the season. Lapidary equipment and supplies are available in the gift shop.
Cutting demo lesson: $100.00
All lessons are by appointment only.
​To schedule a lesson call 828-524-4570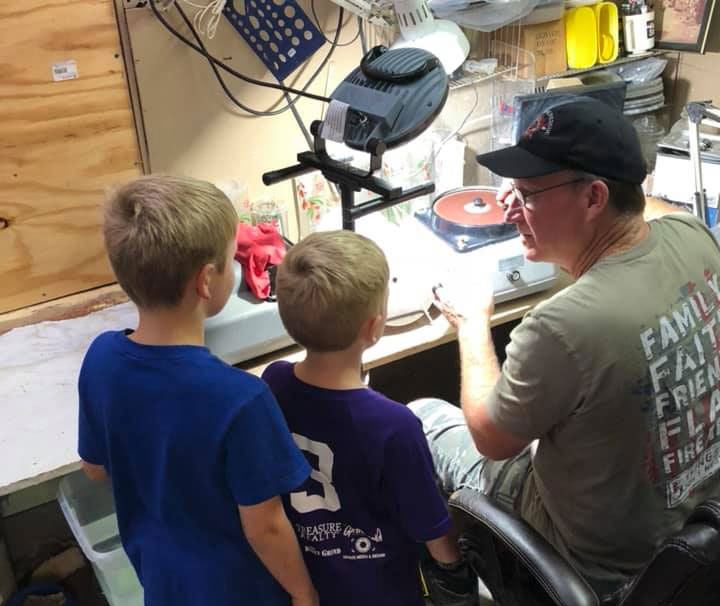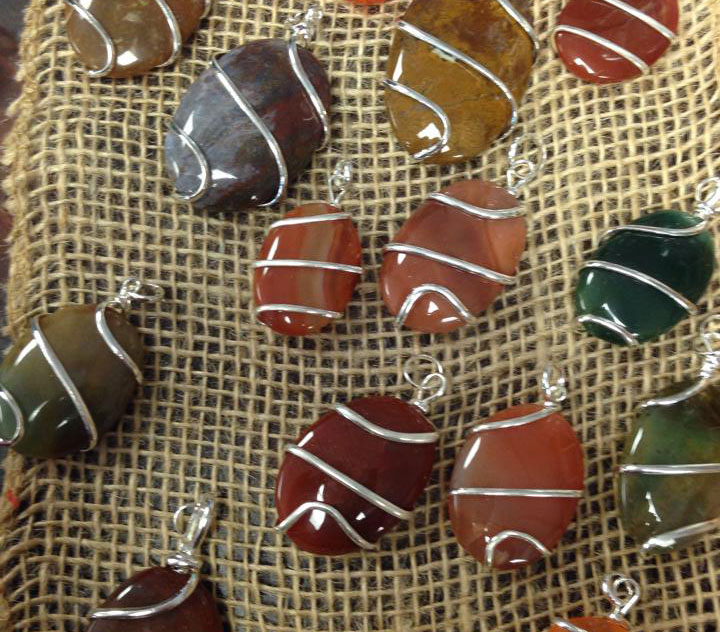 JEWELRY
At Mason Mountain Mine you can have your treasures turned into jewelry that will last forever. Our knowledgeable staff can assist you in identifying which findings would best make into gemstone jewelry. A wide selection of mountings from rings, pendants, earrings, and bracelets help customers design that unique piece of jewelry.
Pricing of cutting and mountings vary depending on the size of stones and whether mounts are silver and gold.
Contact our gift shop at:
828-524-4570 for pricing.
Dig Your Pile
Our native dirt pile where your gem mining experience begins. Native dirt from the private mine site located atop Mason Mountain is brought down to this pile for miners to sift through. Soil samples from this location indicate a wide variety of minerals including Rhodolite Garnet, Ruby, Sapphire, Kyanite, Moonstone, Cordierite and Smoky Quartz.
Our experienced staff will guide you in how to discover native material. We have a gemstone chart available to help you identify your findings as well.
Just place the dirt in the screen and rinse thoroughly. Concentrate on material that is smooth, heavy and has color. Until you become familiar with the native material, be sure to have our staff help you in the beginning.
All Day Dig: $40.00
4 Hour Dig: $30.00
Super Buckets:
To ensure gems are discovered, miners can purchase enhanced buckets that have gems added to the native dirt. This will guarantee a find of additional minerals.
These buckets are many of our miners' favorites!
$30.00 super average 4-6 pounds of gems
$50.00 super average 10 pounds of gems
$100 super average 20 pounds of gems
$300 super averages 50 pounds of gems
Barrels
For our avid rockhounds, we offer barrels that range from $500.00 to $1,500.00
​These barrels are said to "Rock your world" as a rockhound.
​Once your mining is completed at the flume line, be sure to take your findings into the gift shop for identification by the shop staff. The staff will select any findings that could be cut and made into jewelry. We offer cutting and jewelry making for our customers. Our turn around time ranges from 3-8 weeks depending on the season.
We Ship Dirt
Can't make it during our season?
​No worries, we ship dirt all over the United States.
$30.00, $50.00 and $100.00 buckets for shipping.
(S/H subject to change based on shipping location.)
​Call 828-524-4570 to have dirt delivered to your front door!
Mark Your Calendars
Events
Reservation are required for all Dine and Mine and Super Supper Bucket events. Please call (828) 524-4570 to reserve your spot.
Dine and Mine Tour
5:30-8
March 28, 2020 (Sat)
Super Supper Bucket Night
April 18, 2020 (Sat) 5:30 – 6:30 pm
Behind the Line Happy Hour
5:30-6:30 May 2, 2020 (Sat)
Super Supper Bucket Night
5:30-6:30 pm May 23 (Sat)
Behind the Line Happy Hour
Super Supper Bucket Night
5:30-6:30 pm June 13 (Sat)
Behind the Line Happy Hour
Super Supper Bucket Night
Super Supper Bucket Night
Behind the Line Happy Hour
Fall Festival
Customer Appreciation Day
Oct 10 (Sat)
Super Supper Bucket Night
Behind the Line Happy Hour
Bobby & I have been coming to Mason Mt Mine for about 10 years or so. Feel like part of the family! It is a place to relax, dig in the dirt, learn something new every time and most of all, make new friends! You won't find better native dirt in the area(and we've tried almost every mine) and Tom & Ginger are some of the sweetest souls you will ever meet! We love it here and send as many Pittsburgh folks down as we can! Very grateful for the Johnsons!
Cowee Gift Shop and Mason Mountain Mine
When we first started mining, we checked out several mines. We fell in love with mining here. Tom and Ginger always have knowledgeable employees at the mine to help you know what to look for! They sort your rocks and tell you what's good, pretty or just leaverite (leave it right on the ground).
Ginger has an eye for design and Tom cuts and finishes the stone to perfection. Large stones or small, cabochon or faceted, silver or gold, the jewelry comes out looking amazing. Each year we add to our beautiful collection of jewelry. We know the stones are real! We mined them. We know the settings are good quality and the workmanship top quality.
The gift shop has a wide variety of single stones or beautiful jewelry already made and ready to wear.
Tom, Ginger, and  Brad; as well as Benji's and Brandon's families became friends as we visited yearly. Now they are extended family.
We've brought family and friends to share our mining experience!
We furnish all mining equipment
We Ship Dirt
Buckets can be purchased and mailed right to your doorstep. Call 828-524-4570.
Find Our Gift Shop and Gem Mine
Our Location
We are conveniently located 5.5 miles north of Franklin, NC in the Cowee Valley of Macon County. We sit nestled against Mason Mountain along Hwy 28 North between Franklin and Bryson City.
5315 Bryson City Road, Franklin, NC 28734
(828) 421-1457
(text only after hours please)
5315 Bryson City Road, Franklin, NC 28734